2018 GMC ACADIA DRIVER ALERT AND SAFETY FEATURES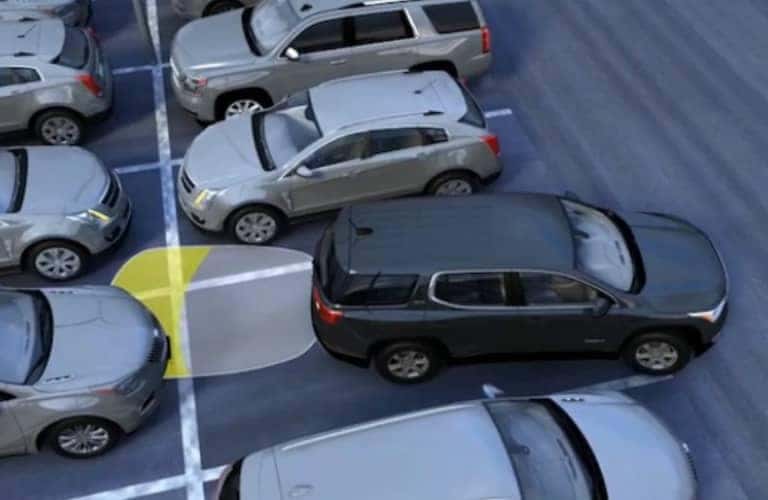 The 2018 GMC Acadia sits comfortably in the middle of the impressive GMC SUV lineup. It's a sleek and versatile midsize SUV that can seat as many as seven people, which makes it ideal for families. If you are helping to raise a family of your own, then you know exactly how important it is to make sure they are safe at all times, including every time the whole family packs into the car for a road trip or even just grocery night. Let's take a look at some of the 2018 GMC Acadia driver alert and safety features and how they work.
Standard and available safety technology
The 2018 GMC Acadia offers up different advanced and intelligent safety technologies to help provide even more security and confidence while driving. Six total trims are available with the Acadia: SL, SLE-1, SLE-2, SLT-1, SLT-2, and Denali. Right off the bat with the SL and SLE-1 models, you'll have the Rear Vision Camera to give you eyes in the back of your head while in reverse, and the Passenger Sensing System, which automatically switches the passenger airbag on or off by sensing a passenger in that seat.
Rear Cross Traffic Alert uses sensors to look for traffic that may be coming toward the rear of the vehicle from the left or right and warns you to help you prevent a collision. This feature is available in the SLE-2 trim, and standard in the SLT-1, SLT-2, and Denali trims. Rear Park Assist gives you distance-to-object alerts any time you are backing up below 5 miles per hour to help make sure you safely enter your parking spot. This feature is available on the SLE-2 trim and standard on the SLT-1 trim. On the SLT-2 and Denali trims, this feature is replaced by Front and Rear Park Assist, which adds sensors to the front of the vehicle to help in forward parking situations.
Another useful safety feature in the 2018 GMC Acadia is Lane Change Alert with Side Blind Zone Alert. Available in the SLE-2 trim and standard in the SLT-1, SLT-2, and Denali trims, this safety feature displays alerts in the side mirror to alert you that a vehicle is approaching in your blind spot (or blind zone).
The top two trims, the SLT-2 and Denali, offer additional safety technologies as standard features. Following Distance Indicator uses radar technology on the front bumper to help you maintain distances between vehicles that are right ahead of you. Forward Collision Alert is a system that can detect an imminent front-end collision and alerts you in such cases. Finally, Lane Keep Assist with Lane Departure Warning provides steering alerts and even steering action if you begin to drift from your lane.