INTERIOR AND EXTERIOR DIMENSIONS OF THE 2019 GMC YUKON AND YUKON XL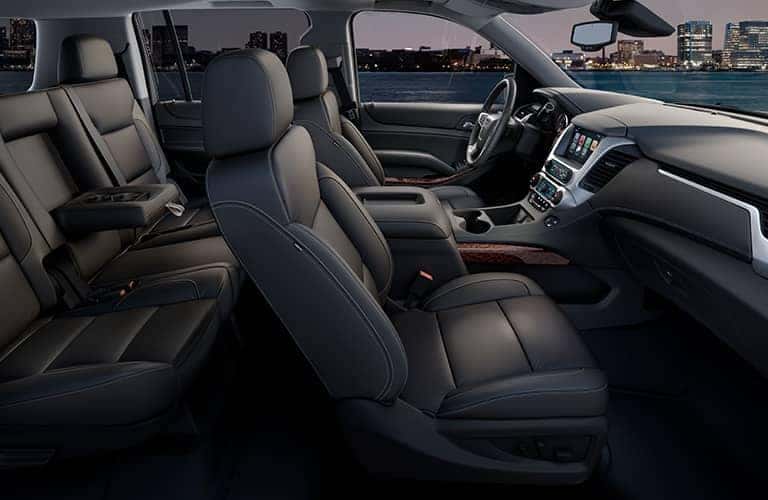 Since GMC focuses on trucks and SUVs, it has a knack for creating stellar versions of each style of vehicle. It's a truck and SUV world these days anyhow, with drivers across the country opting to go big or go home. If you really want to go big with your next vehicle, you may be looking into the GMC Yukon. This full-size SUV is an optimal vehicle if you anticipate many trips with your family or if you expect to be hauling a high number of items over the next batch of years. There are actually two main variations of this GMC model-the Yukon and the Yukon XL, each with separate trims within their respective lineups. The XL, as you might imagine, is in reference to the Yukon XL offering more space. How much more? Let's take a look at the interior and exterior dimensions of the 2019 GMC Yukon and Yukon XL.
Comparing the two Yukon models
The 2019 GMC Yukon has an overall length of 203.9 inches, while the Yukon XL stands at 224.4 inches. The wheelbase of the Yukon is 116 inches compared to the 130-inch wheelbase of the Yukon XL. The ground clearance of the Yukon is 8 inches, and the Yukon XL has a slightly lower ground clearance of 7.9 inches. The height and width of both models is the same: 80.5 inches wide and 74.4 inches tall.
Compare the 2019 GMC Yukon Graphite Edition vs the Graphite Performance Edition.
The biggest differences you will notice are the cargo volume and legroom. While the front legroom is 45.3 inches in both models, the other rows differ. The legroom of the second row inside the Yukon is 39 inches, while there is a slight increase in the Yukon XL: 39.7 inches. The third row offers 24.8 inches of legroom in the Yukon, while that number increases to 34.5 inches in the Yukon XL. The overall passenger volume is 120.8 cubic feet in the Yukon and 122.4 cubic feet in the Yukon XL. In terms of cargo capacity, the Yukon offers 15.3 cubic feet behind the third row, 51.7 cubic feet behind the second row, and 94.7 cubic feet behind the first row. The Yukon XL offers 39.3 cubic feet behind the third row, 76.7 cubic feet behind the second row, and a whopping 121.1 cubic feet behind the first row.
No matter which Yukon model you select, you will be driving a bold and spacious ride fit for many occasions.